Traveling to the Middle East, tourists will be able to contemplate immense endless deserts and grasslands, Muslim churches and buildings which are impressive symbols of the land. The Middle East is located in the center of Asia and Europe in which it plays an important role in economy, army and even tourism.
Kazakhstan:
Astana capital is one of the best 30 cities in the world which surely attracts tourists in the first time by super buildings of the best architects in the world. In Kazakhstan, people live in fresh peaceful nature with tortuous rivers surrounding towers and green parks.
The building in the city is combined between modern and traditional architecture in which national and common characters have created many miraculous symbols. Bayterek tower having features of a stylized poplar and cosseting the gold egg – Samruk is an excellent representative symbol of the philosophy. Native residents usually call it as an old life tree that tells about a miraculous huge bird Samruk and golden happy eggs. When discovering the egg, you should remember to put your hand into the right golden hand of President Nazarbaev and pray in order to hope that luckiness will come true.
The Pyramid of Peace coming from an idea of a mountain and the Pyramids of Egypts is another wonder. It has been divided into 6 areas symbolizing 6 different religions and usually occurred religious events, seminars and international exhibitions. In the darkness, the tower is very brightening as a picture of a flying dove. Inside the pyramid, there is an opera theatre with totally 1500 seats, a national cultural museum, a library and a studying center of Kazakhstani national communities.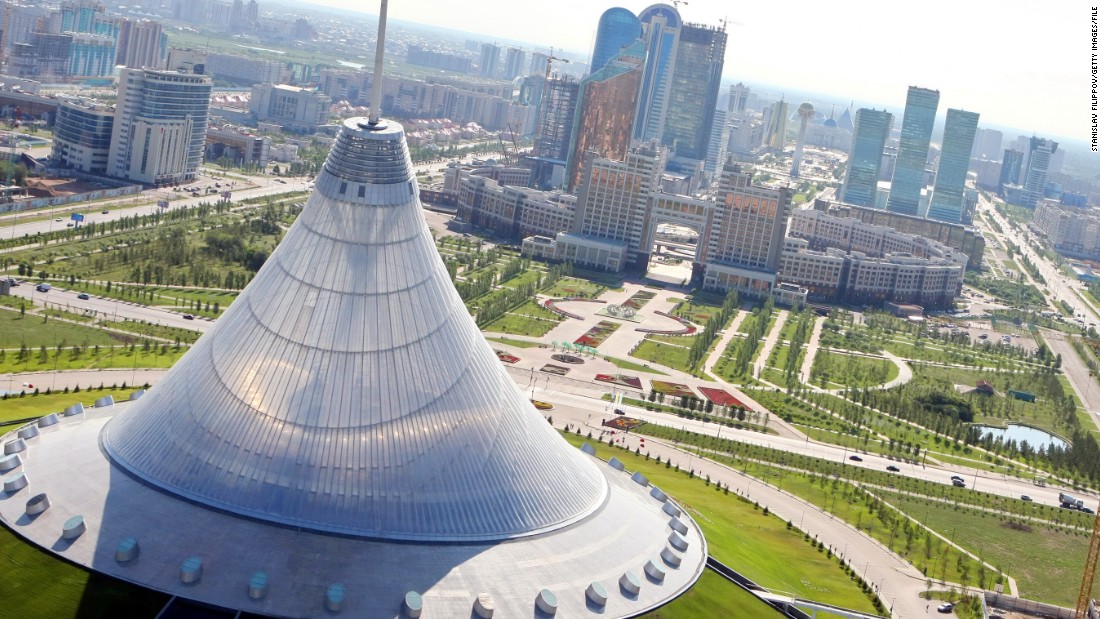 To make a study about nomadic culture, you should not ignore the Khan Shatyr which has huge width of 10 stadiums. The city has not only a shopping center and an artificial beach but also a white sandy beach from Malaysia.
Azerbaijan:
Azerbaijan is rich for cultural and historical heritages and many interesting natural phenomenon which are becoming a new fascinating destination in the touring world map. One of the most attractive destinations is Baku capital in which there are many ancient cultural heritages. Go walking on the old town – the Inner, tourists seem to go back to see the old architectures in passion. Miraculous Eastern culture combined with small curved roads and the buildings which were constructed by the Russian in the 19th century will be a strong point during the discovery.
In addition, the Shirvanshah palace which is considered as a unique heritage of the world also exist many secrets with 26 rooms. The Maiden tower attracts with beautiful harbors, hills and blue sea.
In particular, an outdoor museum named Gobustan is famous for ancient sculpture. The world cultural heritage includes more than 4000 pictures about 12000 years. They describe vivid life of residents who were rowing, hunting and dancing.
The Ateshgah temple which is considered as a holy fire appeared in the 17th century. It will be an interesting experience for tourists. In 1975, Ateshgah became the National Museum with attraction of about 15000 tourists every year.
The fire wall – the Yanar Dag which burns constantly on Rocky Mountains is a good place for discovery.
Georgia:
This small country has been not only interferential civilization but also the cradle of Christianity since 324 B.C. Therefore, it owns plenty of luxurious spectacular cathedrals. Tbilisi capital is over 1500 years old with Chinese wonderful architectures which is fantastic with a lot of tourists. Visiting Sameba church, C.Metekhi temple, Narikala fort and Rustaveli Boulevard with many buildings of European architecture in 19th century is very interesting.
It is far from Tbilisi about 20 km, people can see Mtskheta city with desolate roads, ancient houses and bell of cathedrals which surely stirs your heart. Tourists must contemplate Jvari friary – in which it is so meaningful to Christian people and Svetitskhoveli cathedral in order to understand clearly why Georgia is a holy part of Christian. Beauty of big thousand-year rocks under viewpoint of Christian makes everything become more lively and fanciful.
Leaving Georgia, you should stop to have a delicious meal with wine and traditional dishes while enjoying fantastic art performance. These are nice memories in your trip.